Introduction:
Congratulations on your upcoming wedding! One of the most enchanting accessories you'll wear on your special day is a veil. This comprehensive Veil Style Guide will take you on a journey through various veil styles, helping you find the perfect match for your wedding dress and theme. Let's dive in!
Cathedral Veils:
Cathedral veils exude elegance and drama, making them perfect for formal weddings and grand entrances. These ethereal veils cascade to the floor or beyond, creating a breathtaking bridal statement. They beautifully complement ballgowns and formal A-line dresses.
Recommendations:
Princess Ballgown: Pair your ballgown with a cathedral veil featuring delicate lace appliqués for a romantic fairy tale look.
Classic A-line: Opt for a simple, sheer cathedral veil to enhance the clean lines and timeless appeal of your A-line dress.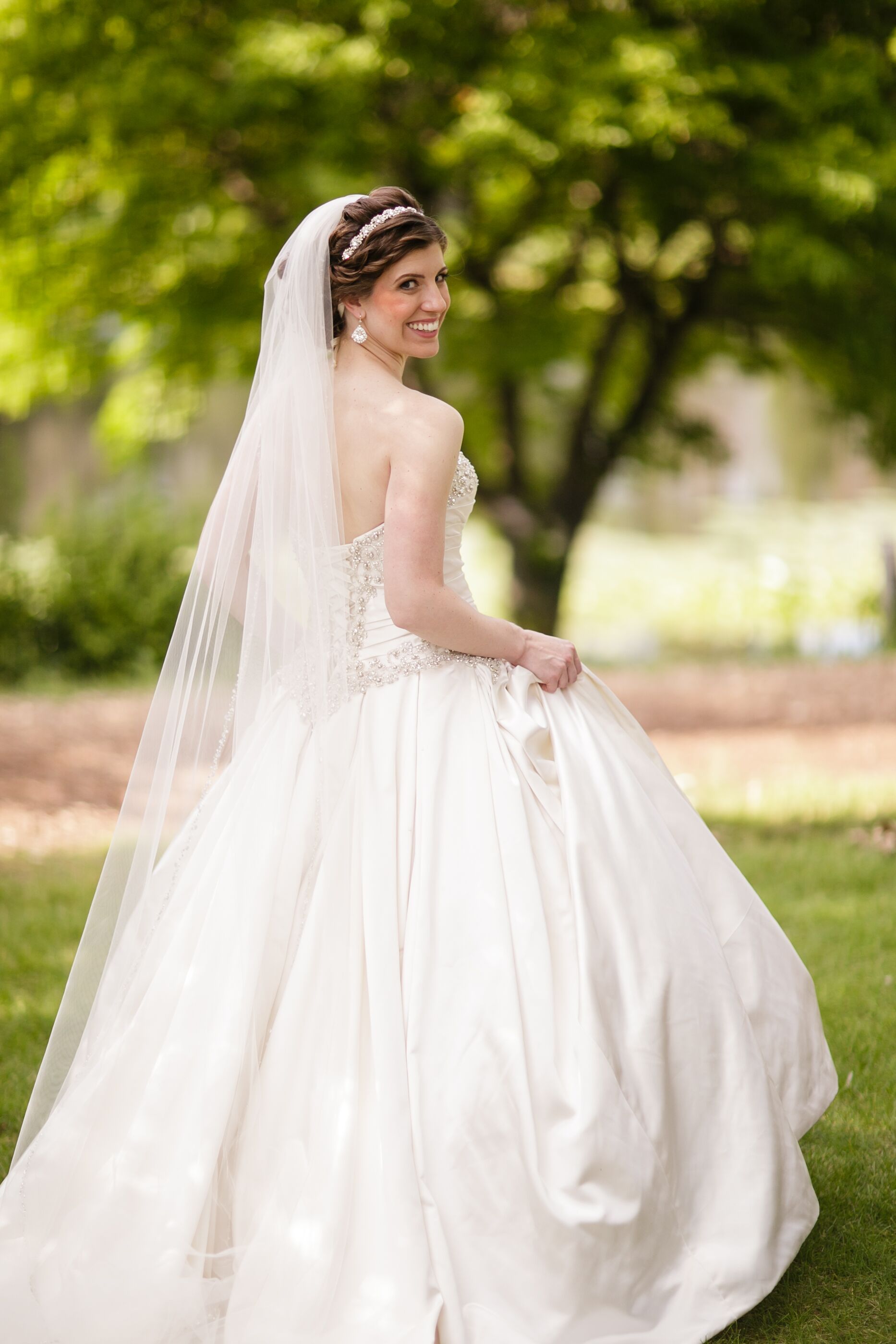 Fingertip Veils and Birdcage Veils
Fingertip Veils: Fingertip veils strike a balance between elegance and practicality. As the name suggests, these veils extend to your fingertips, providing graceful movement and a touch of romance. They are versatile and complement most dress styles.
Recommendations:
Mermaid or Trumpet: Enhance the figure-hugging silhouette of your dress with a fingertip veil that flows seamlessly from your waist.
Sheath: Choose a sheer, simple fingertip veil to maintain the understated charm of your sleek sheath dress.
Birdcage Veils:
For brides seeking vintage charm and a touch of retro glamour, birdcage veils are the perfect choice. These short veils drape over the face, exuding a mysterious allure. They work well with tea-length dresses and retro-inspired gowns.
Recommendations:
Tea-Length Dress: Complete your vintage-inspired look with a birdcage veil adorned with delicate lace details.
Retro Ballroom Gown: Pair your glamorous ballroom gown with a birdcage veil featuring a chic feather or sparkling rhinestone embellishment.
Blusher Veils and Mantilla Veils
Blusher Veils: Blusher veils add an element of tradition and anticipation to the bridal ensemble. These veils cover the face and are lifted by the groom during the ceremony, revealing the bride's radiant beauty. They work well with classic and romantic dress styles.
Recommendations:
Vintage-Inspired Lace Gown: Enhance the timeless appeal of your lace gown with a blusher veil featuring delicate lace trim.
Romantic Ballerina Dress: Opt for a sheer blusher veil that creates an enchanting softness to match the flowing tulle layers of your dress.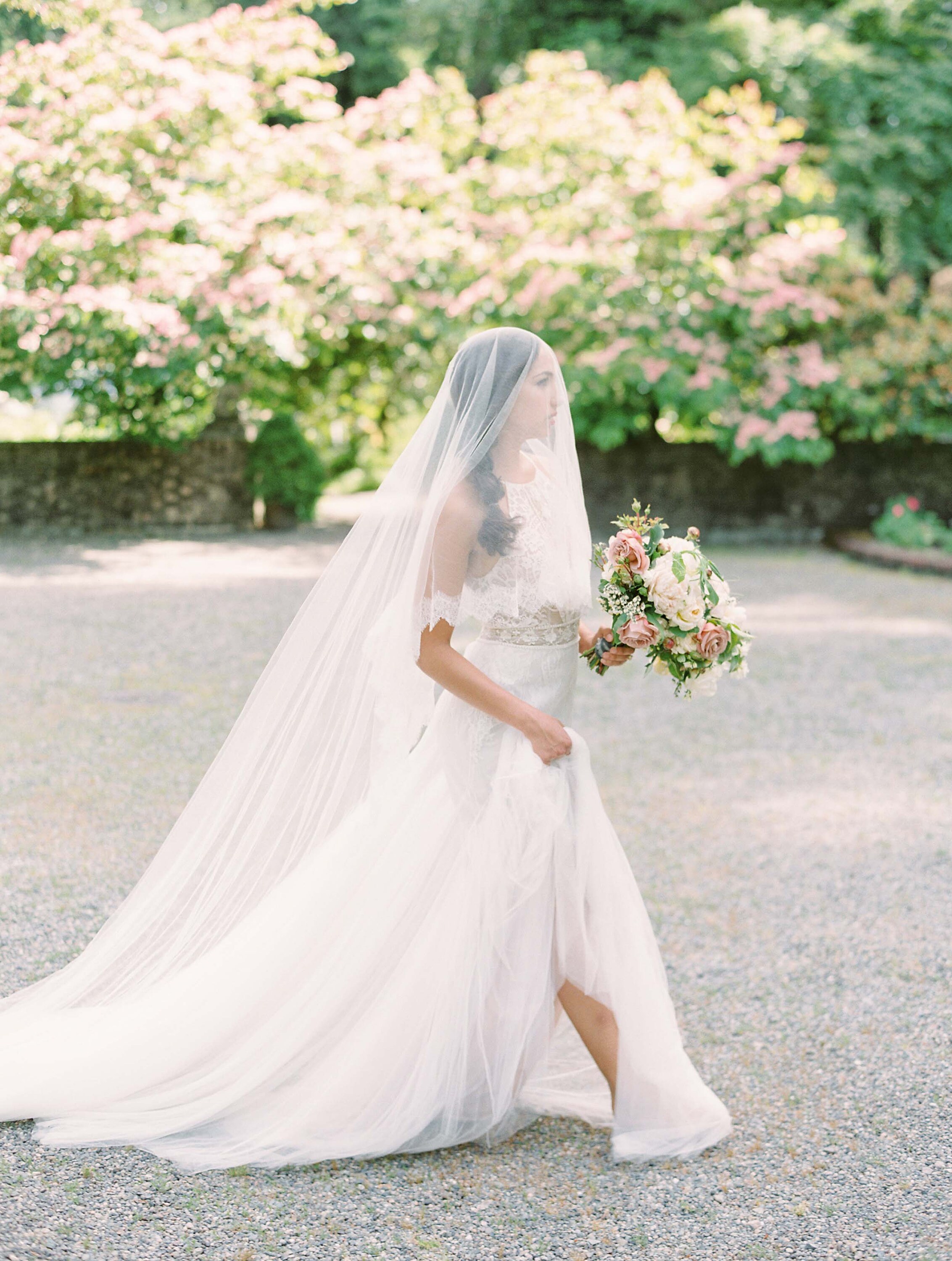 Mantilla Veils:
Originating from Spain, mantilla veils feature lace edges that frame the face, exuding a touch of romance and femininity. They pair beautifully with lace dresses and destination weddings.
Recommendations:
Lace Mermaid: Match the intricate lace of your mermaid dress with a mantilla veil that showcases the same lace pattern along the edges.
Destination Beach Gown: Opt for a lightweight mantilla veil that captures the breezy and romantic essence of your beach wedding.
Conclusion:
We hope this Veil Style Guide has provided you with valuable insights and inspiration for finding the perfect veil style to complement your wedding dress and theme. Remember, your veil is the finishing touch that will make you feel like a true bride on your special day. Happy veil shopping!
Note: Please note that the descriptions, recommendations, and images in this guide are for illustrative purposes only. It is always recommended to try different veil styles and consult with bridal experts to find the perfect match for your individual preferences and wedding vision.